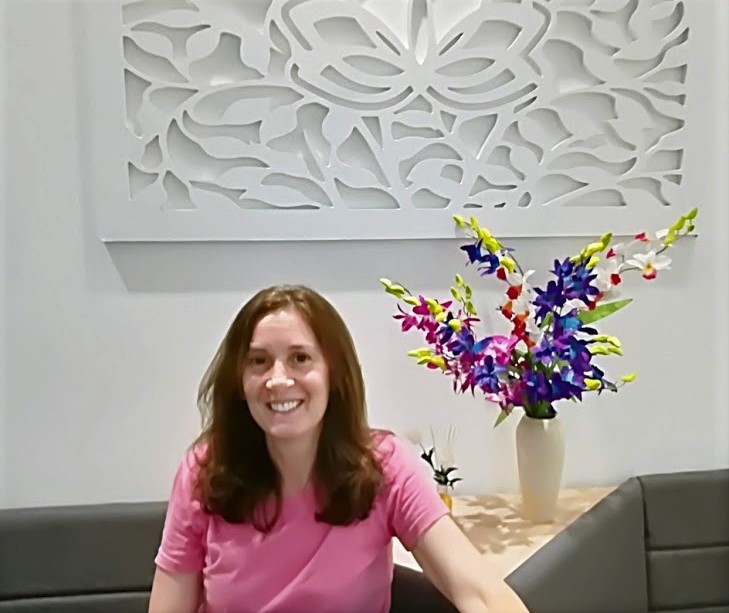 Kelly spent over 20 years living with chronic stomach issues and Crohns disease. She also suffered from Chronic joint pain for more than 7 years. She had spent over 20,000 dollars and must have tried all the therapies and conventional specialists from all over the world – nothing gave her lasting pain relief. Then she found Akeia Health here in Nairobi.
Kelly has open heartedly told us to share her journey from hopelessness to health. When she walked into my office 2 years ago she was in debilitating pain, suffering from insomnia, intestinal discomfort coupled with pain, diarrhoea and terrible allergies. Her pain was caused by an autoimmune condition called ankylosing spondylitis – a type of arthritis that affects the spine and joints.
I felt like a burned out, hopeless mess all the time
When she was living in USA she had tried juices, cleanses, exercising, herbs, adaptogens, massages and she found they all gave her only temporary relief. After that she went to various conventional specialists including the best rheumatologists, gastroenterologists and allergy specialists. Each one gave her a bag of medication to go home with to manage her symptoms. Despite all that she was still in a lot of pain and felt like she could barely get past every day.
---
Finding Akeia Health
Kelly had little hope and was skeptical as she had tried it all already. Her first visit was a very long history taking session. At Akeia we take the guesswork out of the treatment protocol and strive to get to the root cause. She brought her previous test reports, that I went through in a lot of detail to find patterns in the gaps in her health. I ordered further blood tests to find the missing parts of the puzzle of her condition. At Akeia we have invested high technology functional tests to see over 1000 biomarkers to get to the root cause. Like peeling the skin of the onion one by one I found the root causes of her condition, starting with the worst working down to the least bothersome.
Being Proactive & Managing Pain
Every time Kelly felt a bit better, it motivated her to keep going on – she never once gave up. This was an ideal therapeutic relationship. It led to the miracle of her being on zero conventional medication. She managed to cross off most of her diagnosis, and was recently able to run again! She takes a number of supplements, but that does not bother her in the least. Rather, she says it is helping her reach heights that people can only dream of in life.
After years of not feeling a sense of well being, Kelly finally found relief from her symptoms. With each layer uncovered we have continuously tested her levels. Most recently her vitamin levels are all on point and her stomach is almost healed. She has also not had any viral or bacterial infections, showing an improved immunity. Most importantly, she does not live in debilitating pain like before. Through testing at Akeia we were able to work upstream to find the source of her symptoms.
---
I've gone from not being able to walk down the hallway without getting breathless from pain to being able to run again!
Kelly has played a big part in her therapeutic relationship with us, being proactive in making lifestyle changes, dietary changes and taking her supplements regularly. She has also undergone some advanced treatments with us, including a micro-biome replacement and chelation. If she ever has a small relapse of symptoms – she now knows what to look for and continues to work in partnership with us at Akeia. She will soon be moving out of Kenya, and a big concern was being able to follow up. At Akeia we make the most of technology and she will continue her care on Skype with us. We currently treat patients from 9 countries on Skype, and all this is through the spread of word of mouth! This is a great example of functional medicine helping people with complex conditions.
Read more inspiring patient stories, such as one from Alice, and others on our blog.